WIT-LA Supports Local and Global Education
We are committed to giving back to our community
WIT-LA believes in extending educational opportunities beyond our professional programming. We strive to have a local as well as global impact on education for our youth around the world. We are also very proud to support the seamen who bring our trade in goods across the oceans to the Port's of Long Beach and Los Angeles.
To meet that goal locally and have a positive local impact, every year we support students of international trade. WIT-LA is proud to provide the Marjorie Shostak Scholarship as well as the Gladys Moreau Scholarship on an annual basis to two deserving local college students.
As well, to achieve our goal globally, for over 5 years, we have contributed financial support to our preferred charity, Room to Read, in their efforts to end the cycle of poverty one child at a time by building schools and libraries and providing long term scholarships to girls in the developing world.
Here are the programs that we are currently supporting:
Marjorie Shostak Scholarship
Gladys Moreau Scholarship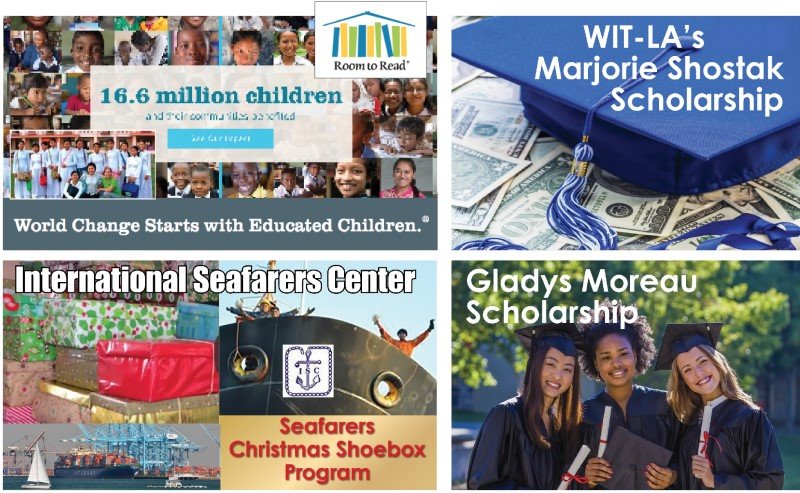 Eligibility Criteria Scholarship Awards.
Must be enrolled as a full-time sophomore, junior or senior undergraduate student at an accredited Southern California institution of higher education actively pursuing an academic discipline leading to a career in international trade, business, law or related international field. Acceptable majors include: Business Administration - International Emphasis Economics or Political Science: i.e. pursuing a law degree, with an International Emphasis
Must be in good academic standing with a Cumulative GPA of 3.0 or better on a 4.00 scale.
Must be a legal U.S. Permanent Resident or citizen.
Close consideration will be given to students who can demonstrate leadership qualities as defined by a record of involvement and participation in extra curricular activities on their college campuses and/or in civic activities in their local communities. Applicants shall provide this information in Section II of the application.
Hello ladies of WIT-LA,
I received your scholarship in 2006 and thanked you profusely then as well as after the application of the scholarship to study abroad with University of Liverpool during the summer of 2006.
I am emailing now to say thank you because in the long-term this scholarship aided me in discovering my personal and professional goals, in helping others and making our world a better place, here and abroad. I finished my bachelors last May in Political Science, and graduated magna cum laude and with departmental honors. I will be graduating with my masters in Public Policy and Administration this coming August and am proud to say I have officially been accepted into the Peace Corps. My departure date is Sept. 28th, 2009 to Azerbaijan and I will be working with the Community Economic Development program.
I don't think words can adequately express my sincere gratitude for the scholarship I received from WIT-LA just less than 3 years ago. I also cannot stress enough the impact the Marjorie M. Shostak scholarship had on me in my undergraduate. Without your scholarship and others like it, I wouldn't have been able to complete my undergraduate with the ease a first-generation student does not often experience. My motivation, personally and professionally, has been inspired by the generosity of others to better our world, and organizations like WIT-LA who give back to their community do just that.
So thank you, thank you, thank you.
With the kindest of thoughts,
Megan Lysaght