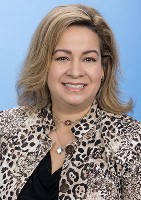 Presenter:
Marisela Caraballo DiRuggiero
Director of Trade Development Port of Los Angeles
Marisela Caraballo DiRuggiero is the Director of Trade Development for the Port of Los Angeles, the busiest container port in North America. Appointed to this position in 2019, she oversees the Trade Development Division, ensuring the Port fulfills its mission to connect U.S. businesses throughout America with overseas trade opportunities-particularly exports-through trade promotion workshops that encourage increased trade through the Port of Los Angeles. Trade Connect, the Port's educational trade outreach program, is tailored to small-and medium-sized businesses dealing with specialized commodities to consider export markets.
Webinar hosting services sponsored by